Event Detail
Back to Events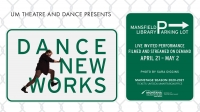 Art :: Dance
Dance Concert: "Dance New Works"
12:00 AM
University of Montana
Description:

The UM School of Theatre and Dance is thrilled to have found a path forward to continue to create and share the work of students, faculty, staff and guest artists during the pandemic. We are excited and grateful to continue to reinvent our practices with perseverance and resilience. All interactions among staff, production, and performers followed COVID-19 safety precautions to ensure the wellness of our theatre and dance community. The mainstage season and Studio Series for spring 2021 will be presented virtually, beaming onto patrons' favorite content-consuming device in safe and innovative ways with the help of online ticketing platform ShowTix4U. Shows are recorded, and purchased tickets will grant online access to each production.
The University of Montana invites you to "Dance New Works," a one-of-a-kind drive-in performance in a vacant parking garage, inspired by Jacob Jonas's production of "Parked." It will be streamed April 21-May 2.
"Dance New Works" consists of two separate shows, each with an invited audience of 18 vehicles circling the performers. This production provides a platform for choreographers to experiment with group compositions and performances. The live production will be a one-night-only live invited performance on April 10; filming for the streamed production will happen that night.
"Dance New Works" features pieces by UM Dance Program faculty, a guest artist, and BFA and BA candidates working on their junior projects. Choreographers work collaboratively with Design & Technology faculty, staff, and students to achieve a complete visual translation of their choreographic intention. They use movement as a vehicle to research diverse themes under the mentorship of faculty and peers. The production promises to be an evening of choreography that is unique, diverse, and original.
Guest artist Nicole Wolcott says that her work "exercises a kind of exquisite listening in performance to navigate each scene, so the performance is hyper live. In this development process, the roles of dancer and choreographer find nearly equal influence on the final work." Her piece is inspired by what makes someone an individual: their history, their expression, their sense of humor.
Georgia Littig, a junior earning her BFA in Dance, will be presenting her new work "golondrinas y los nidos arcilla." Littig states that her "dance explores the energy and history that is carried within the structure of movement. As a bilingual student with Puerto Rican roots, I have felt distant from the most significant parts of myself as I have gotten older. My hope is to reconnect to my body by revisiting what it is to be a body molded by Hispanic women. Dancers will draw from the women in their lives to inspire the movement they bring to the piece. We will dance the joy and gratitude of what is to be bright bodies made from the earth!"
Visiting Assistant Professor Brooklyn Draper will be presenting her new work in collaboration with music-composition major Andy Josten. The piece features six dancers and seven musicians performing live in the space together. Draper notes that she and Josten have been "exploring the polarities of different dynamics in both movement and sound and how these different qualities can merge together."
All tickets cost $10. Tickets are available by visiting https://www.umt.edu/umarts/boxoffice/. For more information, email Draper at brooklyn.draper@umontana.edu. To see more information about the entire spring 2021 Theatre and Dance mainstage and studio season, visit https://www.umt.edu/umarts/boxoffice/.
Age Group: All Ages

Venue:
University of Montana
Visit Website
Visit Venue Page
Address:
32 Campus Drive, Online (Streamed) Missoula, MT 59812
Get Directions
Phone: (406) 243-6880